pipe fitting mold
manufacturer AERO MOULD is a famous China mould making factory. We make PVC pipe fitting mould, PPR pipe fitting mold, core collapsible fitting molds, unscrewing pipe fitting mold, etc.
Pipe fitting size ø75mm TEE
Material PVC
Mould size 1100*1000*460mm not including hydraulic cylinder
Mould cavity 2 cavity
Cold runner
Mould steel S136 stainless steel
Delivery time 40 days
We have a mould team specialized in manufacturing all kinds of moulds, if you have new projects for pipe fitting mold, pls feel free to contact us.
Post by Alice email chinamould@aeromould.com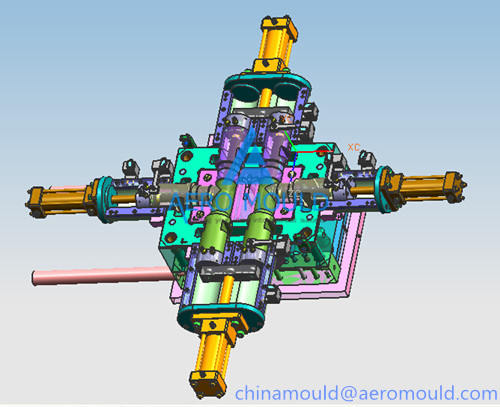 Nowadays China has become the world's factory, more and more overseas companies are seeking a good business partner in China.Then the question is how to find a good partner and how to judge a partner? In the plastic industry, you may ask which company is Chinese top plastic mold maker? And which place has the most plastic injection mold suppliers? AERO MOULD as a leader of China mould manufacturer, here are some advice of how to make a good mould.
To make a good mould, design is the first step and most important step to save cost.
If there's any defects found during design, we only need spent few minutes to modify it, but if the defects were found after mould trial, then the mould makers need to spend few days or even few weeks to modify. So a good plastic mould design idea can reduce time and costs to improve the mould after mould trial.
AERO MOULD realized the importance of plastic injecton mould design, the owner of AERO MOULD organize mould design trainning quarterly.
To ensure a good plastic mould the process planning is also a vital factor. Each mould components should adopt appropriate tooling process, otherwise, the mould component might be damaged and need to make a new one, it is really a waste of time and costs. To be consciously aware of it, we have formed a professional technical team to take charge of every mould process. Their job is to make tooling process planning as soon as the mould design was approved by customer, and supervise the entire process.